Gartner predicts a strong growth of SaaS technologies reaching revenue figures of $85 billion by the end of 2019. The growth comes at 17.8 percent increase from previous years and accounts for a majority proportion in the public cloud revenues forecasted to reach $278 billion by the year 2021. The overall growth of the SaaS industry will remain consistent through these years as more companies adopt SaaS solutions for a variety of business functions, not limited to core engineering and sales applications as seen during the early years of Salesforce popularity. The SaaS cloud application services market segment will reach $113.1 billion in 2021, up by almost twice from the 2017 revenues of $58.8 billion.

Source: Gartner via ZDNet
The SaaS market is reaching a higher revenue size than both Infrastructure as a Service (IaaS) and Platform as a Service (PaaS) combined. Gartner predicts that the IaaS market will grow from $23.6 billion in 2017 to $63 billion in 2021 and the PaaS market will grow from $11.9 billion in 2017 to $27.7 billion in the year 2021.
The competition in the SaaS industry has since increased rapidly. Research suggests that the number of competitors for SaaS firms starting around 2012 were less than three on average. By the end of 2017, every SaaS startup faced competition from nine other firms competing in the same SaaS market segment. Considering the example of SaaS marketing solutions, the number of products increased from 500 to 8500 between 2007 and 2017.

Source: PriceIntelligently by ProfitWell
Stability of the economy and investor interest in scalable cloud solutions have encouraged entrepreneurs, innovators and enterprises to develop new SaaS solutions. In 2018 alone, 169 SaaS acquisitions took place, averaging at $1.3 billion. The number is closer to the mean acquisition price, considering that two data points at the highest price points in 2018 were $8 billion and $7.5 billion for Qualtrics International Inc. and GitHub respectively. These stats position SaaS companies as some of the most expensive business entities in the industry. IPO valuation has also increased by 3.5 times since 2017 as SaaS IPOs collectively reached $38.2 billion in 2018. These numbers are expected to increase at similar growth figures in the coming years as organizations increase public cloud spending as per Gartner predictions for the near future.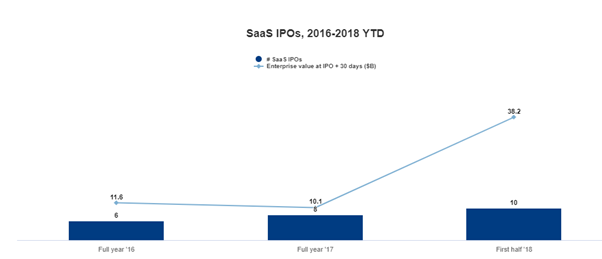 Source: OpenView Venture Partners
Customers are increasingly adopting the subscription based pricing model to satisfy growing IT needs within limited IT budget. Established enterprises are also responding by embracing the 'as-a-Service' business model to satisfy these needs. The result is a suitable business environment that facilitates healthy competition among SaaS vendors while the market demand continues to increase exponentially.
The number and type of users of SaaS products has increased rapidly in recent years. Its not just the small firms but also large enterprises leveraging SaaS technologies to power their business. Another researchfinds that organizations with over 250 employees use over 100 SaaS apps, whereas small firms of up to 50 employees use up between 25-50 SaaS solutions on average. However, the rate of SaaS usage growth is consistent across organizations of all sizes. The growth is driven both by internal requirements attributed to tooling-focused product development methodologies such as Agile and DevOps, as well as the growing availability of useful SaaS products in the enterprise IT market segment.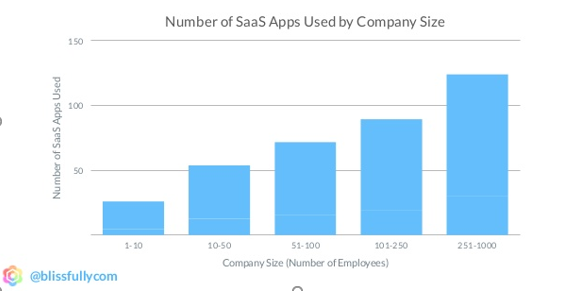 Source: Blissfully Tech Inc via CloudSoftwareAssociation.com
The proportionality of SaaS adoption to workforce size is attributed to several factors. Small organizations tend to work on a limited set of projects and naturally require a limited set of products to address the necessary IT functionality. As the organization grows and the number of teams increase, users working on different projects may have their own requirement for the SaaS tools. In order to avoid the issues resulting from Shadow IT – adoption of unapproved software at the workplace – including those associated with cost and security, large organizations make it easier to provision as many SaaS resources as necessary. Additionally, the complexity of large-scale projects at the enterprise level means that no single SaaS solution delivers all necessary functionality. Users tend to rely on multiple SaaS solutions to address their technology requirements may therefore adopt several products designed for the same target audience and application use cases.
Source: Blissfully Tech Inc via CloudSoftwareAssociation.com
The SaaS market is dominated by Microsoft, followed by Salesforce, Adobe and Oracle respectively, according to a recent report by the Synergy Research Group. Microsoft also leads the annual growth rate with 45 percent, closely followed by Oracle at 43 percent and SAP at 36 percent. Although these enterprises are driving the SaaS market growth, a significant proportion of their revenue comes from selling on-premise software. With the prevalence of the subscription-based pricing model, companies such as Microsoft are rapidly migrating their customers toward the SaaS consumption model. While the on-premise software deployment model reached maturity several years ago, less than 15 percent of the software budget is spent on SaaS products. This means strong potential for growth of SaaS products in the coming years as their Total Cost of Ownership matches that of the on-premise software deployment models. Organizations dominating the enterprise software space, including IBM, Oracle, Microsoft and SAP will likely maintain their market share for enterprise software products, as a growing number of customers can take advantage the same product capabilities with the feasible subscription-based pricing model.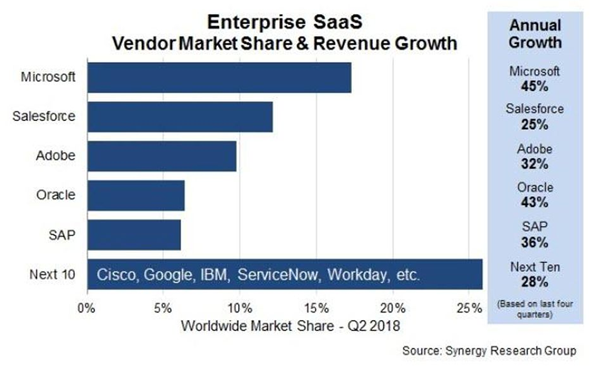 Source: Synergy Research Group
From a customer perspective, SaaS products deliver higher strategic value as compared to on-premise software deployments. The software deployment time has reduced from several weeks and days to a few minutes with the SaaS model. The wealth of SaaS solution available in the enterprise software market means that users have a diverse set of resources readily available to address varied demands of different users. As a result, organizations are experiencing higher levels of employee engagement with feature-rich SaaS solutions designed for improved customer experience. SaaS vendors are also able to push feature improvements, bug fixes and security updates on the fly. These capabilities with on-premise deployments were previously required to pass through several layers of organizational protocols and governance before eventually reaching end-users. SaaS technologies have made it easier for enterprises and software vendors to effectively deliver the necessary features and functionality to end-users, ultimately contributing to the popularity of SaaS solutions over on-premise software products.